Season 6, Episode 14: "Across the Sea"
Ok. So this one was probably the most polarizing episode of the season, some loved it and some hated it, and I can definitely see both sides of the argument. On the one hand, plenty of people were not too psyched to get an hour of Lost that contained basically no face time for the characters that we've come to know and love. Instead, we get introduced to yet another "new" character in Mother, the unnamed Island caretaker and foster mother to Jacob and Man (Boy?) in Black. Furthermore, in showing a some of the mythological history of the Island, we are inevitably left with a bevy of new questions - (where did Mother come from? Who is the father of the children? How does the dagger kill Jacob if they can't die?) - questions that certainly won't be answered before the show's conclusion. As frustrating as this may be, you had to love Mother's line "Every question I answer will just lead to another question" at the beginning of the episode - a direct line to us from the producers telling us to just deal with what we get.
On the other hand, I thought what we got was satisfying and necessary. For years now we've been asking questions regarding the origin of Smokey and Jacob. And based on how much of this season is focused on their relationship to the Island and to each other, I don't think we could have moved to a conclusion without knowing where they came from. Also, as a bonus we got an answer for a question that has plagued us from Season 1; the explanation of the Adam and Eve skeletons. Finally, we were given this download at an appropriate time - people that are upset about the late season placement of this episode should remember that we have 3.5 hours of Lost to go, all of which will no doubt be focused back on our current storyline. So maybe I'm a half glass full type of guy, but I liked "Across the Sea." And as always, there are conclusions that can be drawn from this episode that weren't overtly explained to us....and that more than anything is what got me excited about this week's recap.
To start, it is my belief that Mother was Smokey. Actually, I think that Mother was both Smokey (protector of the Island) AND the protector and purveyor of the Light. Meaning, that she was both the Black and White that we see exemplified today as MIB and Jacob. For who knows how long she was performing both duties, and quite frankly, it was wearing her out ("I'm tired" she says wearily to Jacob halfway through the show). So when a pregnant Claudia washed ashore and gave birth to boy twins, Mother quickly sprung into action and devised a plan. She would groom these two boys in specific, yet separate ways so that they would grow up to inherent the heavy responsibilities that she currently shoulders alone. One - the more curious and cunning of the two - would be the protector of the Island itself, ridding it of all unworthy "people" that arrived there. In order to do so, that person will need to understand the capabilities of man, the greediness they posses and the evil they inflict. The other - the purer of the two - would be responsible for guarding and choosing those that were to possibly succeed him in protecting the Island's (and maybe World's?) most valuable resource, the "Light." He would need to shielded from those negative aspects in order to recognize the goodness in man, so that only the most qualified individuals were chosen for consideration. Most important, having two entities perform these tasks instead of one creates a necessary Balance to the entire landscape...a theme that we've been hit over the head with this season.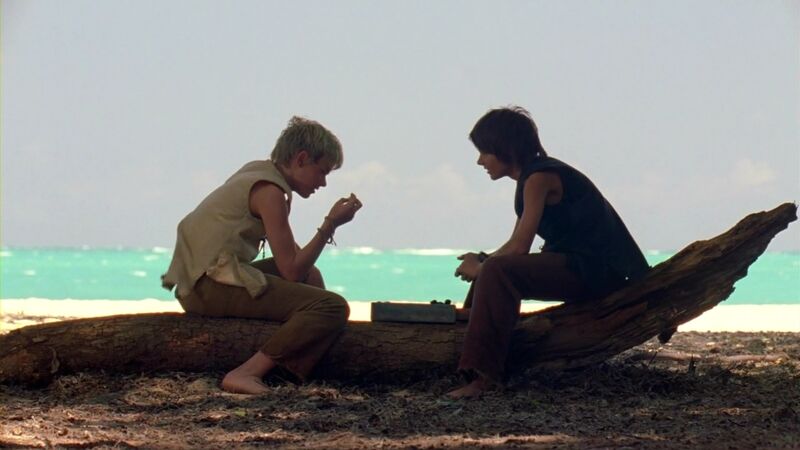 Skeptical? Let's review some of Mother's manipulative actions. First, she plants the game for Boy in Black to find. This seeds his curiosity of worlds that might exist outside of the Island ("Where else would it come from?" she asks. BIB responds "From somewhere else....across the sea.") Next, Mother manipulates Boy in Black further by taking the form of his real mother, Claudia. In this encounter, Smoke Monster Claudia shows Boy in Black where he truly came from. In doing so, BIB is motivated to leave Jacob and Mother to live with the his people from the shipwreck. Again, this development was orchestrated by Mother so that BIB could learn understand the seedier characteristics of Man. Later, we learn that the tactic worked; 30 years after his defection, MIB explains to Jacob that the people he lives amongst are "greedy, manipulative, untrustworthy, and selfish." But as long as they help him get off the Island, he doesn't care.
Mother's next move is probably the biggest clue to her being Smokey. After learning that MIB has worked with the people to create a system that will harness the Light (the donkey wheel, by the way), she knocks him out, carry's him out of the cave, destroys the entrance to the well, and promptly obliterates all who lived in the village. Now, if you think that an old woman was able to not only destroy a well made with heavy stones but also kill a village full of people then I'm not sure what to say. But do you know what could inflict that type of damage? Right, good ole Smokey.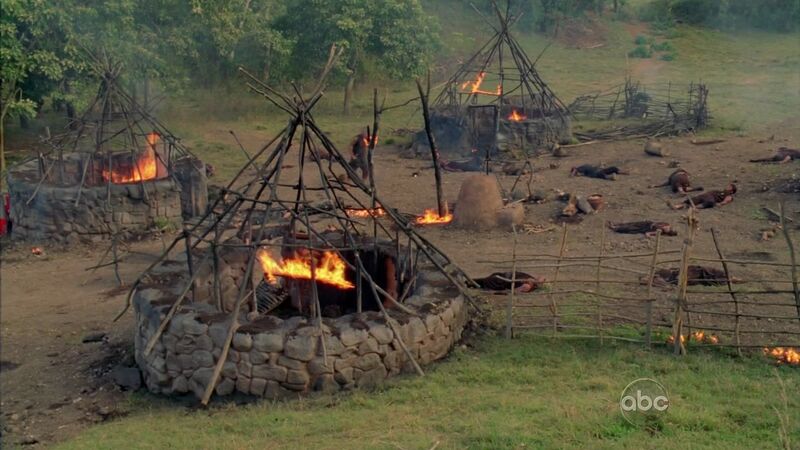 After obliterating the village, she takes Jacob to the cave and explains that he will be the one to protect the Light, adding that he must find a replacement when his time is over. Also, she makes him understand that he can never go down the tunnel. After Jacob asks if he'd die if he did so, Mother responds, "it'd be worse than dying Jacob, much worse." Of course, only one who had gone down there herself would know the consequences, right? The look she gave when uttering these words was of knowing regret, as she's been roaming the Island as Smokey - inheriting bodies of the dead for centuries - and her only way out is to pass on that sentence to another. But first Mother anoints Jacob as the one who will protect the Light ("it was always you"), and then moves on to the final part of her plan. One down and one to go.
After telling Jacob to go gather firewood during the walk back to camp, she pauses, giving him a longing look as if to say goodbye, and then walks back to the campsite alone knowing that an enraged MIB will be waiting for her. Abiding by the long crafted rules, she says nothing to her killer, and is stabbed in the heart . Before dying, she utters "thank you" as her never ending life and duties have finally come to an end. On cue, Jacob arrives to find the bloody knife in the hand of his brother, drags him to the cave, and gives him a punishment worse than death. And with that, Mother's promises come to fruition. As Smokey, MIB truly is trapped on the Island, and will never be permitted to fulfill his desire to leave and return home. Instead, he will roam the Island for eternity and devour the men that are not worth to inhabit it. He provides the Balance to Jacob's responsibility to protect the source and bring those candidates that are good enough to the Island for possible replacement. The rules of the Game have been switched, now Jacob is making them, and for years and years the battle persists in a never ending stalemate.
But what Mother didn't account for was MIB's loophole. By figuring out how to free himself without breaking the rules, MIB is dangerously close to being able to actually leave the Island. And if this happens, we've been told that all sorts of shit will go down. Why so? Is it because without the Black, the Balance is jolted, allowing the Light on the Island to go out? If so, it means bad news for everyone, because as Mother said, "if the light goes out here, it goes out everywhere."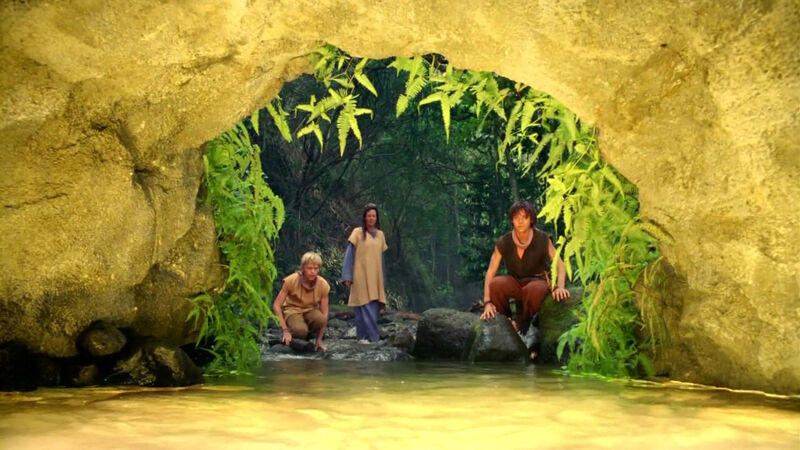 So that's my take on "Across the Sea." I know it's a bit long and clunky, but thanks for sticking with it if your still reading here. After watching it again, there's definitely other analysis that could be argued: one being that MIB was simply the victim of bad parenting (which is certainly not a new theme on Lost), and that the hate and resentment he held for his Mother was so intense that those emotions helped literally generate Smokey - or "evil incarnate" - from the Light itself....but that's a whole other post!
Tid Bits
The board game Boy in Black and Jacob were playing was called "Senet." From Lostpedia;
"
Senet
(or
senat
[

1

]
), a
board game
from
predynastic
and
ancient Egypt
. The oldest hieroglyph representing a Senet game dates to
circa
3100 BC
.
[

2

]
The full name of the game in
Egyptian
was
zn.t n.t ḥˁb
meaning the "game of passing."
I haven't been able to find a translation for what Mother said while "blessing" the wine for Jacob...anyone got something?
Another take on how the dagger killed Mother, and how the dagger is special. I've read a theory that because MIB's dagger was so close to the "Source," it was able to destroy something that also came from the Source, namely the Mother. If true, this means that the same dagger could theoretically kill Flocke, seeing that he also came from the Source. Interesting to ponder about....but none of this explains how Jacob was able to be killed. I think that particular mystery will remain unsolved.
Oh, and for those that still doubt the Mother/Smokey theory...who are the only two characters on this show that aren't given names? You guessed it, MIB and Mother.
(Also, I think this is obvious, but after MIB becomes Smokey, he obviously inherits his old dead body, and it is that form that we see in most other flashbacks that include him. He had this form until he took the form of Locke.)
And one parting thought: if Jacob needs a replacement, and Mother as Smokey was replaced, will Flocke need a replacement as well? If so, who might that be?
That's it for this week. Get ready for a big week of Lost: tomorrow night is the penultimate edition, and then this Sunday is the finale extravaganza. I promise to get my recap for tomorrow's ep before Sunday. Enjoy!